Entwined with You by Sylvia Day
Author: Sylvia Day
Title: Entwined with You
Publisher: Penguin Publishing
Publishing Date: 4 June 2013
Genre: Contemporary Romance
Rating: 3 Stars
Blurb:
The worldwide phenomenon continues as Eva and Gideon face the demons of their pasts, and accept the consequences of their obsessive desires…
From the moment I first met Gideon Cross, I recognized something in him that I needed. Something I couldn't resist. I saw the dangerous and damaged soul inside–so much like my own. I was drawn to it. I needed him as surely as I needed my heart to beat.
No one knows how much he risked for me. How much I'd been threatened, or just how dark and desperate the shadow of our pasts would become.
Entwined by our secrets, we tried to defy the odds. We made our own rules and surrendered completely to the exquisite power of possession…
Review:
I want to start by talking about Gideon Cross.
Who is he you ask? Well, he is your friendly neighborhood entrepreneur, fully equipped with caveman tendencies. He's young, gorgeous and super successful. He is a run of the mill control freak, with an unlimited income that allows him track your every movement. He is a genetically blessed, and well-dressed (don't forget well-endowed), billionaire.
Need I go on? Well yes, I do need to actually. He is sex on two muscular legs, has the perfect body, and a black belt in dirty talk.
Gideon Cross is the undefeated champion of foreplay, world-renowned exploder of ovaries, national lady bit dampener, and the master dropper of panties.
Sorry, I may need a moment. It's the dirty talk. Gets me right in the uterus. It's hot (see Exhibit A).
Exhibit A: "Wishing I were with you. I'd love to spread you across the hood and fuck you real slow. Push my cock deep inside you. Give those shocks a workout"
A glass of water might be nice. Feeling a bit parched over here.
Gideon Cross would be nauseatingly perfect if it weren't for the amount of fucked up he is. Instead he is supremely hot, severely damaged, and the dirty talk is probably the best thing about him. Mmmmmm.
Sorry.
And Eva, well, she's some annoying blonde chick.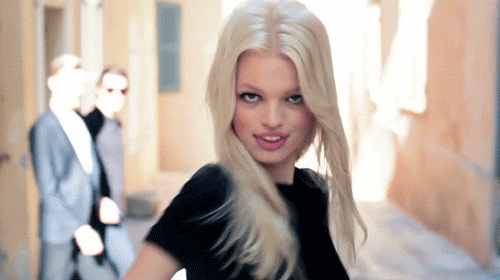 All right, Eva does have her good qualities. She sticks up for herself. All these people try to control her life, but she's spicy and tells them off. She calls Gideon out on his crazy when he slips into his creepy stalker pants. She's aggressive (sometimes), independent (most of the time), and does not suffer from dead fish syndrome (ever). Also she get's to have filthy, kinky, crazy, hot, sexy sex with Gideon (see Exhibit B).
Exhibit B: "He wrapped my throat with his hand, gripped my hip, and thrust so hard into me that my feet left the floor."
GIDEON CROSS FUCKS
Of course, Gideon proves his awesome, because he appreciates Eva's active libido. He doesn't want her sole responsibility to be the counting of ceiling tiles (see Exhibit C).
Exhibit C: "You're greedy and insatiable, and I love it. I love knowing that once I get inside you, you're going to suck me dry. Then you'll want to do it again."
They're basically perfect for each other.
Eva is equally damaged, which is why their relationship works well and is so healthy. I'm lying, it's really really not. They are obsessive, jealous, co-dependent, dramatic, insecure individuals. But let's be honest, it's what makes the series so gooooood.
Admittedly, they both grow a little in this book. Which may be the reason for all the boring. Most of the intense dramatic fuckery is missing.  Eva and Gideon alternate between really sweet to severely dysfunctional. Which meant I alternated between bored and fascinated.
There wasn't that much going on in this book. I did learn a lot about the contents of Eva's closet. Soooo many outfit changes. I felt like I was in Clueless. Many gyms were frequented, many cars were driven, many lunches and dinners were had during the course of this book.
I can't even say that the book focuses mainly on Eva and Gideon's relationship, because there is so much secondary character drama thrown in. Everyone has relationship problems. EVERYONE. At first, I thought it would be a good idea if every single character found themselves therapists. The amount of poor decision-making made me want to start eating my hair.

And then I realized that they all already have therapists. So I thought that maybe when I finished reading, I would go and get myself one instead.
This book left me in knots. I loved it. I hated it. I didn't know what to think about it. Ultimately, it was a good read. All the elements expected of the series were there, even if they were interrupted by chunks of mediocrity. It was well written. The sex scenes were phenomenal. Eva and Gideon were intense, dramatic, and adorable. I'm giving it 3 Stars.
I do recommend Entwined with You, particularly if you're a fan of the series. There is no insane cliffhanger. There are definitely some loose ends, but nothing too painful. I can wait patiently until the next book.
A couple things…
In regards to a certain lotion scented sex scene:
SPOILER: I actually had a huge problem with the whole anal play scene. It had the potential to be freaking crazy hot. HOWEVER, Gideon is so hesitant, and Eva pretty much ignores that. She goes with a whole "if I can get him all hot and bothered, forget what I'm about to do, then I can surprise penetrate him" plan. My issue. He is an abuse survivor. He tells Eva (earlier in the book) that he struggles with the fact that the man who molested him made him physically enjoy the ordeal even though he didn't want to. Gideon tells Eva to stop, MORE THAN ONCE, and she just keeps on with her whole "make him super horny" plan. Similarities? Fuck yes. That scene left me feeling so sad for Gideon. In my mind it was a violation of his trust, and his body. The same rules of "no" "stop" and "don't" that apply to women, apply to men as well./END SPOILER
Side note: I hate the word flower more than I hate the word flutter.
Another side note: The BDSM notation is just there for decoration. This series is about two people who suffered horrible past abuse, and are attempting to function in life and in a relationship. The books are dark, sure. But the BDSM is light. It's there, but barely. It's not much of a focus point in the book. I think some people would be beyond irritated if they go into this expecting a romance involving BDSM.